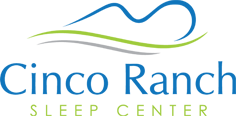 DO YOU NEED A SLEEP STUDY?
A sleep disorder will affect your quality of life, your abilities at your job or school, and even your relationships. Some sleep disorders can lead to serious health problems such as increased risk for heart attack and stroke. The sooner you have the problem diagnosed and treated, the better. Don't ignore the signs of sleep related issues. Our specially trained and certified Technicians at Cinco Ranch Sleep Center will do whatever they can to make your stay relaxing and comfortable. Our center is equipped with state of the art technology to monitor your sleep behavior and give you the best results possible for your stay with us.
Some sleep disorder conditions could include:
Don't Put off this important diagnosis any longer. Click on the number below to call for an appointment or click on the website link to learn more.
Schedule a sleep study today
Most insurances accepted.